---
Welcome to the ROCK MUSIC weezer webring homepage. Feel free to look around and check out any of the sites in the ring. If you have a =W= site, look around to see if you would like to join the only weezer webring on the internet.

This site will have new graphics soon. This title is only the beginning...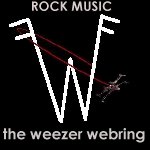 INDEX for Rock Music: the Weezer webring.
Add your site to the ring!
If you would like to join the weezer webring: Rock Music, fill out this handy form: <!END WEEZER WEBRING CODE-->

Visit the sponsor of this site : pinkerton.home.ml.org

This site will be moving soon, so you won't have to read this crappy advertising anymore. Go to geocities if you want a free home page.